Five Guys
11:30
-
22:00
11:30
-
22:00
11:30
-
22:00
11:30
-
22:00
11:30
-
22:00
11:30
-
23:00
11:30
-
22:00
Five Guys

San Babila
11:30
-
22:00
11:30
-
22:00
11:30
-
22:00
11:30
-
22:00
11:30
-
22:00
11:30
-
23:00
11:30
-
22:00
Ore
Store Hours:
Day of the Week
Hours
Lunedì

11:30

-

22:00

Martedì

11:30

-

22:00

Mercoledì

11:30

-

22:00

Giovedì

11:30

-

22:00

Venerdì

11:30

-

22:00

Sabato

11:30

-

23:00

Domenica

11:30

-

22:00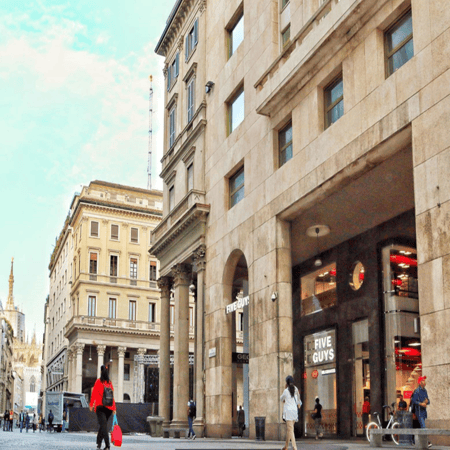 Informazioni su Five Guys San Babila
Benvenuto nel tuo your Five Guys di zona in Corso Vittorio Emanuele II, 37 a Milan. La nostra idea è che dovresti ricevere esattamente il pasto che desideri. Ecco perché offriamo più di 250.000 possibili combinazioni di condimenti per i tuoi hamburger, hot dog e sandwich. Per non menzionare le 1000 diverse combinazioni di mix per frullati. Le nostre famose patatine sono del tipo "Boardwalk", ovvero sono tagliate a mano sul posto ogni giorno e cotte in olio di arachidi al 100%. Sceglierai lo stile Five Guys o il tocco piccante delle nostre patatine Cajun? Prova un'esperienza di gusto da Five Guys: speriamo di averti presto con noi.
Servizi disponibili
Posti a sedere all'interno

Rampa di accesso per disabili

Ideale per bambini

Colazione

Servizio di consegna

Servizio da asporto

Posti a sedere all'esterno

Birra
Cosa ci rende unici?
Thousands of Combinations

Our 15 free toppings mean you can enjoy over 250 000 combinations. So you can enjoy your usual, or never eat the same Five Guys twice.

Hand-Cut Fries

Our fries are hand-cut in store from fresh potatoes every day. And, whatever size you order, you'll always find and extra scoop tipped into your bag.

Fresher Than Fresh

We never use frozen ingredients and we always cook everything fresh from scratch. It's how we like our food and, we're pretty sure, how customers do too.
€
Burger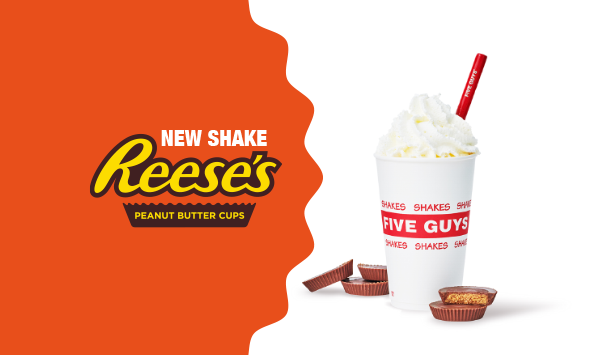 REESE'S PEANUT BUTTER CUPS
Enjoy a brand new mix-in for your Shake, made with Reese's Peanut Butter Cups to give you a chocolatey, rich and nutty flavour. Great on its own or with a burger.
Order Now